Concert Review: Alice Cooper
(San Francisco, CA, Warfield Theater, 21-10-09)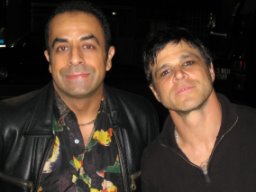 Non stop, jack rabbit virgin sex is the best phrase I can use to describe the pace of Alice Cooper's ("AC's") set. AC's band, that includes Keri Kelli ("KK") and Damon Johnson ("DJ") on guitar, Chuck Garric ("CG") on bass, and Jimmy DeGrasso ("JD") on drums, bulldozed through 26 songs in one hour and 25 minutes before the encore break. No pause between songs, not even the ubiquitous utterance of "How ya' doin' San Francisco?!" It was like the testosterone laced first sexual experience of a young teenager relying on the sketches in Alex Comfort's book, "The Joy of Sex" to make sure he gets it right. No chit chatter, no pause, just the frenetic pace of jack rabbits doing the dirty deed. When it is over you are not sure what just hit you, but whatever it was it felt good, albeit a bit strange. In the case of an awkward first sexual experience, what hits you is the "big O." In the case of what transpired at the hallowed Warfield Theater ("WT"), it was a mix of P. T. Barnum and shock rock and roll.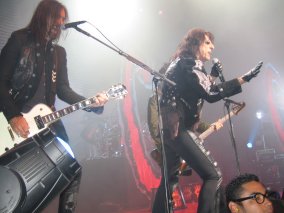 On October 21, 2009, AC brought his entertaining vaudevillian circus to WT. For those of you who have read my review of the Motorhead show at WT from earlier in the month, I ask for your indulgence in repeating a brief history for this historic venue. WT, where Slayer filmed its classic DVD entitled, War at the Warfield during the God Hates Us All tour (12-07-01), is a 2,500 seat capacity theater built in 1927 and renovated in September 2008. WT's layout presents a dichotomy. On the one hand, the theater's beauty is exemplified by intricate frescos of matadors and angels painted on the ceiling atop the stage. Box seats that have long been put out of use adorn each side of the stage and the walls of the seated balcony are a vibrant plum red and gold combination. On the other hand, the standing room only floor has a stark industrial feel with black walls and floor. The walls are carpet padded, serving a safety function for your injury prone writer who trounced around like a whirling dervish at Slayer and Megadeth shows.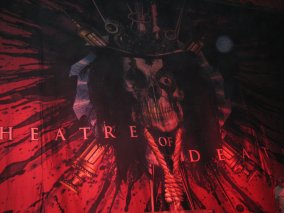 AC was supported by Jetboy, a San Francisco based rock band formed in 1983. Jetboy played a 40-minute set from 8:00 to 8:40. Following Jetboy's set an expansive curtain was raised stage front, featuring a likeness of AC's head as a skull along with the phrase, "Theater of Death." After a 35 minute set change the curtain dropped at 9:15. Hanging individually from the ceiling at varying distances from front stage, were five letters that read, "A" "L" "I" "C" "E." Each red colored letter was made of velvet, ranging from three to 10 feet in height, with a black border encased by a white border. Even though the logo obstructed the view for some fans it added to the carnival like atmosphere depicting the stage as an LSD induced birthday party from the summer of love (1967). [The only thing missing was for a junkie Bozo the Clown to stumble on stage munching on a magic shroom.]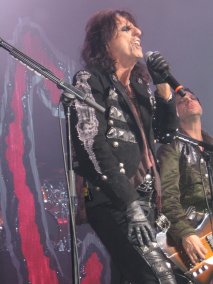 For the benefit of providing a full picture of the freak show, I enumerate all 26 songs AC performed. [The hardcore Cooper fans should appreciate a detailed account, including theatrics, not a skimpy mention of a half dozen songs as if I was doing the 11 o'clock Sunday night sports wrap of the day's football matches.]
1. School's Out (School's Out record, 1972) started the show. Oddly, AC eventually played the same song as the sole encore. AC's first crack at this song was in partial form. Plenty of audience sing along, particularly from the female contingent. AC wore black leather pants, black cotton jacket, burgundy shirt featuring a large skull print, black leather gloves, and a black top hat featuring a skull held in place by skeleton fingers. His pants and jacket featured metal studs. AC had a silver mike holder on his hip comprised of skeleton fingers. [You get the picture. The theme was skulls and skeleton anatomy. I gather the mike holder is also well suited for storing oversized ice cream cones.]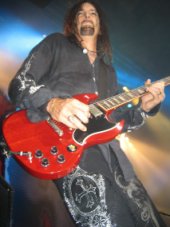 2. Department of Youth (Welcome to My Nightmare, 1975) was an excellent choice for the second song because it is a chant song with audience participation. AC played seven songs off Welcome to My Nightmare. During the last eight or so years it has become popular for artists to play a seminal catalog record in its entirety. AC's Theater of Death tour was not such a tour for Welcome to My Nightmare, making it uncommon to hear seven songs off this record. [The last time I recall a band performing so many songs off one record was Judas Priest performing six songs off Turbo during the Turbo tour.]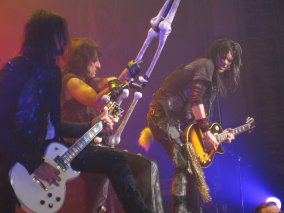 3. I'm Eighteen (Love It to Death, 1971), one of AC's biggest hits, was a surprising song to hear so early in the set. Regardless, it featured great guitar solos by DJ and KK. DJ wore black jeans with a silver skull pattern, long sleeve black shirt with frilly French cuffs. AC walked around holding a crutch comprised of, what else, skeleton bones. [Had I known bones played such a prominent role in the show I would have snuck in a bucket of Kentucky Fried Chicken, gnawed on the meat, and tossed the bone fragments on stage.]
4. Wicked Young Man (Brutal Planet, 2000). AC switched to an off black sleeveless studded denim jacket and black captain's hat. A few stagehands appeared on stage wearing black hoods (hereafter referred to as henchmen) looking like members of The Mentors, the shock rock band formed in Seattle in 1976. One henchman impaled AC with AC's silver mike stand while AC laid on his back atop a steel circus lion stand. This song features a great bass line from CG who wore black jeans, army green satin jacket, and grey tank top with a skull print.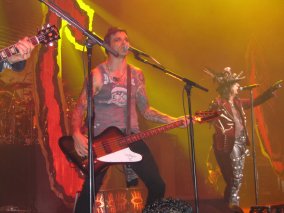 5. Ballad of Dwight Fry (Love It to Death, 1971). AC sang this ballad while sitting center stage wearing a burgundy straight jacket. KK, who wore black jeans, black denim vest, and a black t-shirt, played an acoustic guitar. At the end of the song a black hooded henchman placed AC in a guillotine and performed a mock execution. A few seconds later AC appeared from behind the guillotine and pulled out what was supposedly his severed head and held it high in the sky as if holding Medusa's head.
6. Go to Hell (Alice Cooper Goes to Hell, 1976) is a groove laden song with a catchy chorus.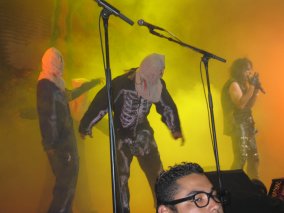 7. Guilty (Alice Cooper Goes to Hell, 1976) is a chugging song that featured a voodoo vibe. AC wore a suede burgundy jacket with an armadillo leather patch across his entire back, large skull bones attached to both sides of the chest, and a black top hat with long feathers.
8. Welcome to My Nightmare (Welcome to My Nightmare, 1975) began with a cascade of smoke, thunder, and lightning improvised using flashing white light. AC sat on a stool where he sang the eerie introduction, reminiscent of the ominous Black Sabbath by the legendary Black Sabbath off, what else, the Black Sabbath record (1969). At the end of this song, one female and three male white hooded henchmen appeared on stage. They danced around AC like zombies before AC pushed them away. Welcome to My Nightmare fluidly led straight into Cold Ethyl.
9. Cold Ethyl (Welcome to My Nightmare, 1975) featured AC masquerading with a life size blonde haired female doll. AC sang to the doll, danced with it, placed it on his lap, and threw it around like a rag doll. [I gather AC's Barbie collection, if one exists, is not in mint condition.]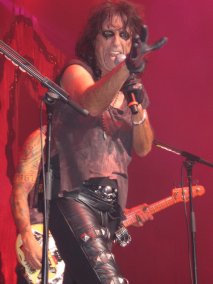 10. Poison (Trash, 1989) was next, the only song from the 1980s and my least favorite. Poison is too poppy and formulaic. Poison epitomizes what was wrong with a lot of rock music from the late 1980s, musicians who became corporate whores, allowed the executives (suits) who could not distinguish between Iron Butterfly and Iron Maiden to dictate how to write songs that would get airplay on radio and MTV's "Headbanger's Ball" television show. This logic did allow for short term commercial success for the greedy and misguided artists, but meant artist compromise, alienating dedicated fan bases. At the end of the song two hooded henchmen along with female nurse in a skimpy white outfit came on stage and "injected" AC with a gargantuan hypodermic needle.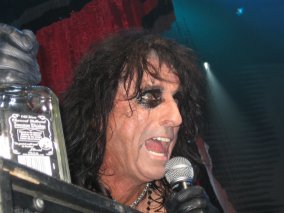 11. The Awakening (Welcome to My Nightmare, 1975) is a ballad that AC sang while on his knees.
12. From the Inside (From the Inside, 1978) featured AC stumbling around in a mock inebriated state toting an empty Jack Daniels bottle while the nurse stood on a platform near the back of the stage taking observation notes. Shortly before the extended guitar solo, the nurse escorted AC off stage in a consolatory manner. CG, DJ, and KK came stage front and jammed while standing atop a steel grill approximately one foot above the stage and extending approximately 10 feet across the stage.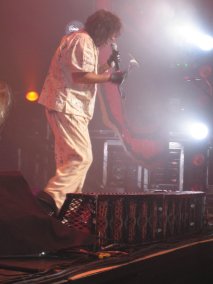 13. Nurse Rozetta (From the Inside, 1978) featured AC singing from a wheelchair and a muddled and sloppy chorus. AC wore a white shirt and white pants bearing the phrase "Asylum" on his chest and repetitive small size cross emblems. The female nurse stood on a platform grinding an electric sander against a stone attached atop her, ahem, sensitive region, causing sparks to fly. The nurse then took AC's temperature and listened to his lungs with her stethoscope. AC miraculously got up from the wheelchair and grabbed the stethoscope from the nurse, tossing it around during the remainder of the song.
14. Is it My Body (Love It to Death, 1971).
15. Be My Lover (Killer, 1971) features a catchy drum beat. A stagehand put a white screen measuring 10 feet by 10 feet on stage. The nurse went behind the stage, becoming visible only by her silhouette, and danced while AC sang. AC put a long white sock over his head, took a second sock and went behind the screen where he used it to choke the nurse.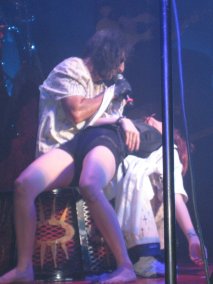 16. Only Women Bleed (Welcome to My Nightmare, 1975) is a ballad that featured an acoustic guitar and AC singing atop the lion stand while holding the limp body of the unconscious nurse on his lap. Halfway through the song AC threw the nurse off his lap and removed her red colored wig. The nurse regained consciousness. AC put the wig on his head and stood over the nurse. With a frightened look on her face and on her knees, the nurse pleaded for mercy. Three black hooded henchmen grabbed AC from behind and forced him to a stand bearing a noose. At this point, Only Women Bleed led straight into I Never Cry.
17. I Never Cry (Alice Cooper Goes to Hell, 1976). AC sang atop a stand with the noose around his neck looking like an insane red headed drag queen who had escaped from a sanitarium. The nurse came to AC's side and, with a mischievous look on her face, kicked the stand from beneath his feet, hanging AC. AC was carted off by two henchmen while dangling like salami.
18. The Black Widow (Welcome to My Nightmare, 1975) is a groovy instrumental that featured solos by KK, DJ, JD, and CG. Since JD was on a drum riser high enough to cause a nose bleed, the only thing visible was his black t-shirt and massive sparkle laden chocolate colored drum kit.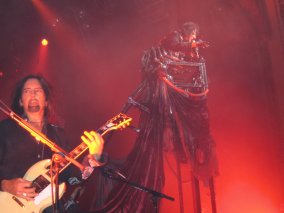 19. Vengeance is Mine (Along Came A Spider, 2008) featured AC singing song from a ridiculously tall black step ladder perched approximately 15 feet. AC wore a jacket featuring zippers on each side of his chest, metal studs all along his back, and six extra dangling arms (three on each side), making AC look like a spider when he extended his hands out. Toward the end of song AC climbed down from the platform and was impaled with a steel rod by two black hooded henchmen.
20. Devil's Food (Welcome to My Nightmare, 1975) is a mid tempo song at the end of which AC shouted, "Repent!"
21. Dirty Diamonds (Dirty Diamonds, 2005) is an up-tempo song featuring a furious guitar riff but repetitive chorus. A black hooded henchman brought out a four wheel kid's cart lined with a red velvet fabric that held a mountain encrusted in coins. A Cabbage Patch sized female doll was perched atop the mountain. AC drew silver bead necklaces from the cart that he threw into the crowd.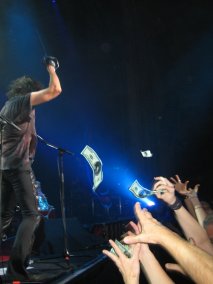 22. Billion Dollar Babies (Billion Dollar Babies, 1973). AC wielded a long sword that had pierced multiple fake $100 bills featuring AC's image in lieu of Benjamin Franklin. AC swiftly swung the sword, causing the bills to fly off and into the crowd. At end of song AC decapitated the doll in the cart.
23. Killer (Killer, 1971) features a groovy bass line. The audience snapped their fingers in response to AC's lead. [I felt as if I was in an episode of the campy 1960s American television show, "The Addams Family."] AC picked up the doll head with his sword and held it in his palm. [AC looked like Indiana Jones holding the gold Mayan head in "Indiana Jones and the Raiders of the Lost Ark."] This song led straight into I Love the Dead.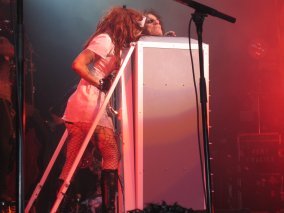 24. I Love the Dead (Billion Dollar Babies, 1973). The black hooded henchmen carted out a refrigerator size grey rectangular box with an iron maidenesque contraption featuring approximately 18 three inch long horizontal steel rods adjacent to the side of the box. A black hooded henchman forced AC into the box and shut the side door, only making AC's head visible atop the box. The nurse went to the box side bearing the rods and violently pushed the rods into the box, impaling AC. The nurse carted the box containing AC off stage.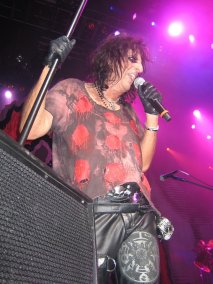 25. No More Mr. Nice Guy (Billion Dollar Babies, 1973) featured AC wearing a black t shirt with nine softball sized blood splatter marks, symbolizing where he was supposedly impaled by the rods. This song has a catchy chorus and has been covered by Megadeth for the soundtrack to the 1988 documentary, "The Decline of Western Civilization Part II: The Metal Years" directed by Penelope Spheeris. AC marched around with a black tuxedo cane that he eventually threw into the crowd. A scuffle broke out amidst the fans over rights to the cane warranting security intervention. [What the zealous fans who grasped the cane with dear life did not realize is they could have simply waited for AC by his tour bus and asked him to hand over the cane he used to aid his stride from WT to the bus (kidding Mr. Cooper).]
26. Under My Wheels (Killer, 1971) was the final pre encore song. The audience enthusiastically clapped along. The entire band, sans JD, took position atop the elevated steel grill stage front. After the guitar solo AC introduced the band. Oddly, rather than one of the band members introducing AC, AC introduced himself by chanting, "And Me!" He repeated the phrase approximately four times. The band left the stage at 10:39 and returned in one minute to play the encore.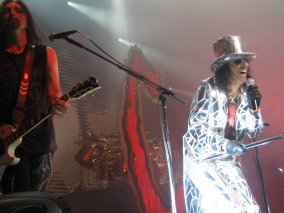 27. School's Out (School's Out, 1972) was performed a second time, this time in its entirety. AC wore an interesting outfit comprised of matching silver top hat, slacks, and jacket with tails (similar to that worn by symphony conductors) and featuring cracked mirror inlays that vibrantly reflected light. Stage hands tossed giant balloons on stage and into the crowd. When the balloons were popped by rabid fans and the headstock of KK, DJ, and CG's instruments, confetti burst in the air.
At 10:45 the band took a bow before the crowd and the carnival ended. [Sadly, I missed the conjoined twins and the lady with the beard, but did see a gruff homeless woman in the nearby street of the slum neighborhood post gig who qualified as the latter.]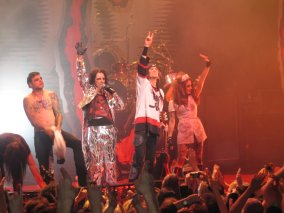 Two flashback memories are worthy of mention. The first is John Carpenter's 1987 horror film, Prince of Darkness in which AC played the role of a homeless/zombie. After the show I waited for KK outside WT about 100 feet from the tour bus situated on the adjacent street. After speaking with CG, a non descript fellow wearing a plain cotton black jacket and pumpkin orange shirt emerged from WT's side door and walked toward me (and the bus). When this fellow, accompanied by a burly WT security guard who I will call Neanderthal Ned ("NN") came within 20 feet, I realized it was AC. AC had his head down, hands tightly tucked in pockets, and walked briskly as if he had not urinated since sound check, making it patently clear he did not want his "flow" (pardon the pun) interrupted. I could not help it. The adolescent in me took over and, as Alice walked by, I blurted out, "How are you doing Alice." Alice looked up, muttered something incoherent with an odd expression on his face, and walked past me without a pause. AC looked and sounded like the homeless/zombie in Prince of Darkness. At that point, a handful of autograph hounds in the vicinity realized who was on the street and ran after AC, prompting NN to proclaim in a fairly loud voice, "We're not stopping for nobody." [Grammar (and higher education) are not NN's strong suit, which I should have gathered by observing his attire, a black leather vest atop a white long sleeve thermal shirt and bright red t shirt, looking like an over the hill rugby player.] NN was right. AC walked straight past everyone and onto the bus.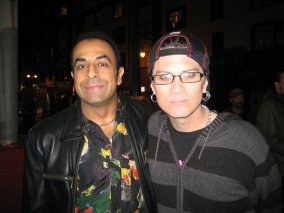 Second, NN's poor grammar reminded me of Dr. Seuss's classic children's book, "Green Eggs and Ham" (1960). Earlier that evening I had an unpleasant interaction with NN. I simply asked him for the attendance. NN's reaction made it seem as if I sought the security code to break into the Pentagon in Washington, D.C. (I estimate 1,700 people in attendance, which would have been higher had the ticket prices not been set at $42.50 face value.) I smiled at NN and walked away. Admittedly, when I later saw NN walk past me with AC, I was, for a nanosecond, tempted to commit a heinous act that would have surely resulted in loss of my license to practice law. I resisted the urge to run up to NN, jump up a few inches to reach his lofty height, crack his forehead open with a swift blow from my hard noggin, and subsequently snap his neck with a quick forceful twist of his head between my right thumb and middle finger, causing his limp Herculean frame to fall before my feet where I would use my combat boot to slosh it around like wet Thai noodle. However, the wisdom and anti violence stance of my devout Muslim father knocked me back to reality. I have instead decided to buy NN Dr. Seuss's "Green Eggs and Ham" at the children's section of the local bookstore. I will present the book to NN at the next WT show. Heck, I will even offer to put his large frame on my lap and read to him. "I do not eat green eggs and ham. I do not like them, Sam-I-am."
Arash Moussavian, Entertainment Attorney
arashmoussavian@cal.berkeley.edu
www.linkedin.com/in/arashmoussavian