Concert Review: Foreigner
(San Francisco, CA, The Fillmore, 08-10-09)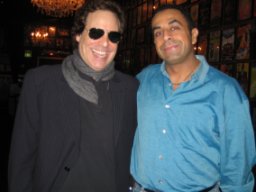 Prior to seeing Foreigner perform live, the band was, for the most part, foreign to me. As a teenager growing up in the 80s, my first allegiance was to Kiss. All is took was one listen to the song All Hell's Breakin' Loose and I was hooked. As the years progressed and the Bay Area thrash movement blossomed like a maggot-covered carcass in a fog laced graveyard, my tastes began to lean to harder edged music, Slayer, Exodus, Celtic Frost, Metallica, and Anthrax. For this reason, I initially wavered on attending the show. However, the band's keyboardist, Michael Bluestein, graciously invited me to discuss the prospects of providing legal representation. I accepted his offer and attended donning a Motorhead t shirt. Interestingly, I was the only visible fan [yes, I admittedly said fan] donning a metal shirt and certainly the only one, aside from Jeff Pilson (bassist), head banging to Foreigner songs I heard yesteryear on television commercials selling "Songs from the 70s" records.
The Fillmore ("TF") is a historic San Francisco theater that, in the mid 1960s, under the direction of legendary late Bay Area rock promoter Bill Graham, was the site of psychedelic and rock music and counterculture. TF's early days featured acts such as Led Zeppelin, The Who, Pink Floyd, Cream, The Grateful Dead, Jefferson Airplane, Jimi Hendrix Experience, and The Doors. TF is a 1,200 seat capacity venue with a standing room floor similar to an oversized dance hall. Positioned above the floor are 10 chandeliers. The second floor contains a bar and box seats, specifically, six box seats stage right and another two, along with the mixing room, across the stage.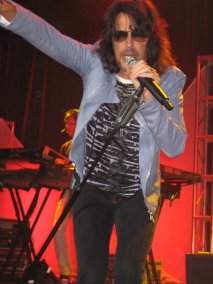 Foreigner started the concert, with no opening band, at 8:17 pm. The band played 15 songs discussed in greater detail below.
1. Double Vision, a mid tempo song, opened the set.
2. Head Games starts out slow and picks up pace. It featured a great Mick Jones (lead guitars) solo while Kelly Hansen (lead vocalist) played a tambourine center stage atop a mini riser about 1.5 feet above the stage in front of the Foreigner logo backdrop. Jones, who is the only surviving original band member, wore black slacks, white tuxedo shirt, and a black vest. [Jones bears a slight resemblance to Micky Dolenz of The Monkees.] Following the song, Hansen asked the crowed if they "are ready for a rock and roll party? It certainly smells like it!" (Referring to the smell of marijuana permeating the air.)
3. Cold As Ice is a slower song that featured a prominent keyboard introduction by Jones. The audience provided ample participation fueled by Hansen's act of perching himself on the barricade and subsequently grabbing a photographer's camera to take photos of his band mates. Hansen, who has been handling lead vocals since 2005 and is ex frontman for Hurricane, wore a powder blue leather jacket, black jeans and a black and white t shirt. [Hansen's mouth reminded me of Mick Jagger and Steven Tyler.]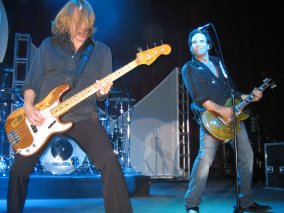 4. Good Morning Good Day is a poppy song with a catchy chorus. It featured Hansen playing the maracas.
5. Waiting for A Girl Like You is a power ballad that featured Jones on keyboard. The audience, containing a sizable number of females in their 40s 50s, enthusiastically sang along.
6. Can't Slow Down is a new song featuring a groovy riff, "Eric Claptonesque" guitar solo that Jones played on his black Les Paul, and a harmonic, memorable chorus. Following this song, Hansen stated, "I smell the sweet perfume of women," which provided a good segue way to the next song.
7. Dirty White Boy was a surprising and very well executed up tempo song, arguably the highlight of the night. Hansen capped the song by encouraging the female contingent to "feel free to take your clothes off." [I was tempted to throw my Motorhead t shirt on stage but did not think Hansen longed to see my man boobs.]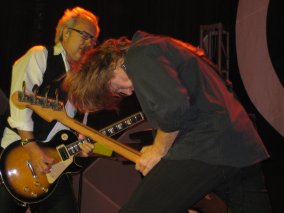 8. Say You Will featured Pilson, Brian Tichy (drummer), and Thom Gimbel (second guitarist and saxophonist) standing stage left in front of Tichy's drum set. Pilson clapped, Tichy played a tambourine, and Gimbel played the maracas. On the other side, Jones played an acoustic guitar while Michael Bluestein (keyboardist) came toward the front of the stage to play Jones's keyboards. [I wonder if Bluestein gets nervous about tarnishing the ivory keys of overlord Jones's keyboard?] Pilson, formerly of Dokken, has handled bass duties since 2004. He appeared in silk/cotton black slacks and long sleeve black shirt. At the end of the song Hansen revisited his fascination and longing for the forbidden weed by stating, "The ganja is getting to me. I am getting hungry."
9. Starrrider was a surprising selection from Foreigner's first record played in extended form, adding to its appeal and, along with Dirty White Boy, being standouts. Jones dedicated Starrider to his late friend, Bill Graham, who met his untimely death in a freak helicopter accident on October 25, 1991 while returning from a Huey Lewis and the News concert in Concord, California. Tichy commenced the song with a thunderous drum pattern, Gimbel played the flute, and Hansen played a tambourine. Jones handled lead vocals while playing an acoustic guitar. He switched to an electric tobacco sunburst Les Paul in time to lay down a memorable solo. Following the song, Jones introduced the band members.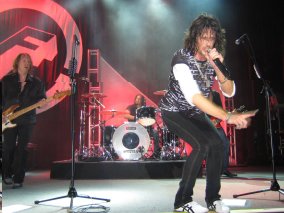 10. Feels Like the First Time features a catchy chorus and guitar solo by Gimbel. Gimbel, who has handled guitar and saxophone duties in 1993 and since 1995, wore blue jeans and a long sleeve black shirt. Although Gimbel has the longest tenure in Foreigner aside from Jones, he, at times, looked a bit awkward onstage, overdoing the macho poses and scrunching his lips sideways as if recently injected with a heavy dose of Novocain. [Gimbel bears a resemblance to childhood actor Barry Williams who played Greg Brady in the popular 60s American television show, "The Brady Bunch." I know, enough already with the resemblances. But I could not help it. About the half the band looked eerily like other celebrities.]
11. Urgent was introduced with a dizzying array of flashing blue, red, and yellow colors similar to that which adorns the Agent Provocateur album cover. This song featured an entertaining saxophone solo by Gimbel.
12. Juke Box Hero was preceded by a three minute keyboard solo by Bluestein. Bluestein's keyboards, comprised of a Roland and Korg, were located at the rear of the stage, stage right. Jones's Kurzweil keyboard was positioned approximately three feet in front of Bluestein's set up. Bluestein wore white pants and a white t shirt. Bluestein's keyboard solo led directly into a four minute drum solo by Tichy. Tichy has handled drum duties in 1998 2000, 2007 and since 2008. Tichy, who formerly played drums for Billy Idol, Ozzy Osbourne, Velvet Revolver, and Slash's Snakepit, wore blue jeans and a black t shirt, and has a solid physique, like a slimmed down version of Kane Roberts, former guitarist for Alice Cooper. The hardest hitting drummers I have seen in concert are Dave Lombardo of Slayer, Tom Hunting of Exodus, and the late Eric Carr of Kiss. Tichy's energy level was not far distant from these drummers. Tichy topped many solos I have seen by discarding his sticks and performing the majority hitting the floor toms, snare drum, and cymbals with the back of his hands. [I gather he would be a wiz at pounding dough in a pizza shop.] Following the solos, Hansen appeared mid stage atop the platform to start the song. Jukebox Hero is a slower number with an ominous beat that becomes progressively more pounding. The band ended the song by doing a teaser, a short five second snippet from Led Zeppelin's "Whole Lotta Love." The band then left the stage and returned in less than one minute to play three additional songs.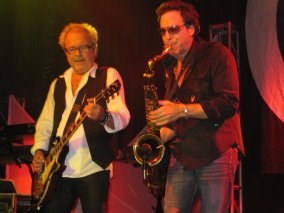 13. Long, Long Way from Home was the first encore song, an up tempo track after which Hansen told the crowd, "I need a medical marijuana prescription." [I somehow get the feeling Hansen is a huge fan of the Cheech and Chong flicks because marijuana plays a central theme in these cult classics.]
14. I Want to Know What Love Is featured Jones on keyboard and Gimbel on lead guitar. Gimbel played a well executed solo on his light blue Fender Stratocaster. Although this is a slower song, it features a very catchy chorus.
15. Hot Blooded was the final song, a chugging number with a memorable sing along chorus. [One theme that ran throughout most of Foreigner's set is the majority of the songs feature catchy choruses, one of the main reasons the band has sold 37.5 million records in the United States.]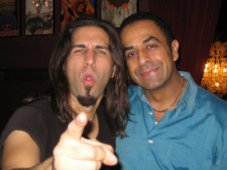 Two flashback memories are worthy of mention. First, I recall standing outside The Stone in San Francisco on November 3, 1986, shortly after Slayer annihilated all living things at the tiny club on the Reign in Blood tour. A zealous fan, fresh from the carnage in the moshing pit, approached a younger, meek fan likely waiting for his parents to pick him up in front of the venue, and called him "a poseur," presumably for not being rough and tumble enough. Shortly into Foreigner's set, I knew my review would be very favorable. Does this qualify me as a poseur, much like that fan outside the Slayer concert some 23 years ago? Will I have to hire a bodyguard to protect my beleaguered frame once word spreads among the metal contingent of my positive review?
Second, I recall sitting in my older sister's room during the late 1970s as she listened to Foreigner on an AM radio station. I intentionally mocked Lou Gramm off key, breaking my sister's concentration as she sang along, and then running out of her room with her troll doll in hand salivating at the thought of pulling each strand of over the top hair off its plastic cranium. Due to her frustration at my antics, my sister cocked her solid pine clogs off of her feet and released them at my head with sniper like accuracy and with such force that the afro atop her head undulated like an underwater sea anemone hit by a strong tide. I owe my sister an apology.
Arash Moussavian, Entertainment Attorney
arashmoussavian@cal.berkeley.edu
www.linkedin.com/in/arashmoussavian