Concert Review: Motorhead
(San Francisco, CA, Warfield Theater, 05-10-09)
A select few rock/metal figures have withstood the test of time. Regardless of whether the focus was on bell bottoms in the 70's, spandex in the 80's, or god knows what in the 90's (possibly flannel), these figures have transcended trends in fashion and music, garnering the respect of rock/metal fans as a whole. Tony Iommi, Jimmy Page, Ozzy Osbourne, Ronnie James Dio, and Lemmy Kilmister ("LK") fall in this category.
On October 5, 2009, a brisk San Francisco night, Motorhead laid siege for the second consecutive tour to the hallowed Warfield Theater ("WT"), the last time being on April 8, 2005 during the Inferno tour. In my humble opinion, WT is currently the best Bay Area venue for a rock concert. Many moons ago (25 +/- years), when I had a full head of hair and a gut that did not necessitate being sucked in at the sight of a pretty damsel, the best venues were three sister venues, The Stone in San Francisco, The Omni in Oakland (East Bay), and One Step Beyond in Santa Clara (South Bay). These venues, owned by John Nady of Nady Systems who invented the revolutionary wireless guitar technology, were the hotbed of shows spanning genres from glam, to thrash, to death metal from the mid 1980's to early 1990's. Sadly the insurgence of the pseudo lumberjack flannel-toting brigade from the Northwest in 1991 symbolized the death knell for these venues.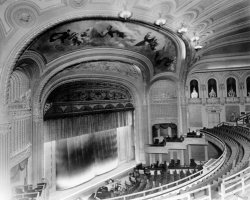 WT, captured on Slayer's 2001 DVD entitled, War at the Warfield, is a 2,500 seat capacity theater built in 1927 and renovated in September 2008. WT's layout presents a dichotomy. On the one hand, the theater's beauty is exemplified by intricate frescos of matadors and angels painted on the ceiling atop the stage. Box seats that have long been put out of use adorn each side of the stage and the walls of the seated balcony are a vibrant plum red and gold combination. On the other hand, the standing room only floor has a stark industrial feel with black walls and floor. The walls are carpet padded, serving a safety function for your injury prone writer who trounced around like a whirling dervish at Slayer and Megadeth shows.
Motorhead was supported by two bands, Nashville Pussy ("NP") and Reverend Horton Heat ("RHH"). NP was the first to take the stage. Sadly, I missed NP. My girlfriend's birthday celebration took priority. After a plea-laden request to the misses, I broke away and arrived at WT at 8:35, within a few minutes after the end of NP's set that began at 8:00. My natural inclination was to head for front row in the pit, almost as if beckoned by an oversized magnet drawing the metal plates in my Dr. Martens [and possibly one in my head]. Upon grasping the barricade lining the photo pit, I felt like an infant who had been handed his pacifier. I just needed someone to rub my tummy and I would have been in sheer heaven.
Next on stage was RHH, a three-piece rockabilly Texas band who put on an entertaining show. RHH played a 57-minute set from 8:48 to 9:45.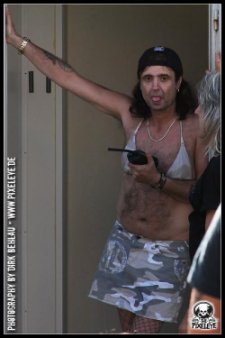 Shortly before Motorhead took the stage I looked behind me and it was clear this was a sold out show, like Motorhead's 2005 gig. The crowd did not grow restless as the band had the courtesy of avoiding the Axl Rose syndrome, punctually taking the stage at 10:15 after a 30 minute set change.
The band appeared to be in good spirits, at least Phil Campbell ("PC") and Mikkey Dee ("MD"). [Maybe I am not a good judge of character, but I have difficulty gauging LK's state of mind. In an ideal world LK's warts would serve as something akin to mood rings, changing colors to reflect his mood. Sorry, I digressed.] What I know for certain is that LK wore what he has for many years, black jeans, a Western style long sleeve black shirt, and black leather boots. As for MD, he recently finished his obligation to a Swedish reality based show, permitting him to join the band on tour and relinquishing the services of fill in drummer Matt Sorum. No disrespect to Sorum, but MD's prior tenure in King Diamond's band speaks volumes about his prowess.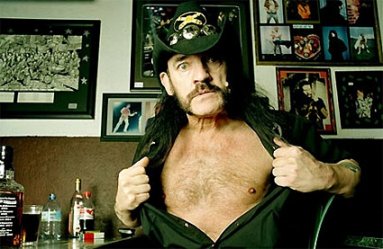 Having secured the final spot along the barricade, I had the dubious distinction of being within three feet of the amplifiers stacked stage right. Normally this would not be of great concern. However, my last Motorhead experience and the warning of a Steamhammer Records representative during two recent phone conversations raised concern that was cemented when the show started. The only concerts I recall being as loud are Slayer's show at The Stone during the Reign in Blood tour (11-03-86), Paul Stanley's show at The Chance in Poughkeepsie, New York during his first solo tour (02-27-89), and Kiss's show at The Stone during the Revenge club tour (04-23-92).
Motorhead played 18 songs. I will refrain from commenting on each song. However, for the benefit of providing a full picture of the metal onslaught, I enumerate all the songs Motorhead performed. [I recall my frustrations as a pubescent teenager reading otherwise well written reviews in Kerrang, Metal Hammer, and Aardschok where the writer only mentioned some songs performed live. Doing so is analogous to foreplay without sex.]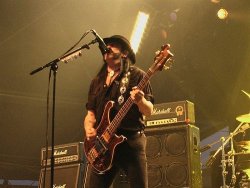 1. Iron Fist, a fast, furious, and heavy song opened the set.
2. Stay Clean.
3. Be My Baby.
4. Rock Out.
5. Metropolis, a slow grinding song, was fifth in order. Following this song, PC, who wore a black blazer, blank tank top, black derby, blue jeans and Converse sneakers yelled to the crowd, "Make some noise." Incidentally, the strap for his white Les Paul guitar was embossed with the phrase, "Bristol Bitch." [I gather the long standing male tradition of naming possessions is not limited to muscle cars.]
6. Over the Top, a groove-laden track, followed Metropolis.
7. I Got Mine.
8. One Night Stand, a heavy, trudging song, was next in cue and followed by a short two minute PC guitar solo. Fortunately the days of drawn out solos where guitarists like to demonstrate the nimbleness of their fingers is mainly over, Yngwie Malmsteen being an exception.
9. The Thousand Names of God.
10. Another Perfect Day. This song featured plenty of echoplex effect from PC's guitar.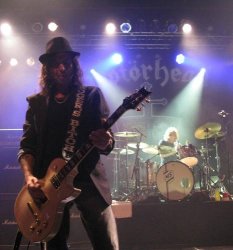 11. In the Name of Tragedy, a song Motorhead performed live a few nights earlier on a late night television show called, "The Jimmy Kimmel Show" was twelfth in order. This is a fast song that featured MD's five minute drum solo. What can be said about drum solos? Unless the drummer pulls down his drawers and hits the snare drum with his pecker it has pretty much been done before dating back to the days of Ginger Baker of Cream, John "Bonzo" Bonham of Led Zeppelin, and the late great Cozy Powell of Rainbow/Black Sabbath fame. However, MD did focus on double bass drums and floor toms, delivering a very heavy solid solo that began and ended with fog-based flash pods detonating within a few feet of each side of his massive Sonor drum kit.
12. Just 'Cos You Got Power is a song LK introduced as being "about politicians." This is a slower song that nevertheless features an eery PC riff.
13. Going to Brazil was next in cue, which LK introduced as "an old song." This is an up tempo track with a very strong blues feel. PC had switched to an orange sunburst Explorer with a strap that read, "Welsh Wanker." [Although I did not see PC engage in any wanking, he did twice extend greetings to MD by raising his middle finger, demonstrating his proficiency in sign language.]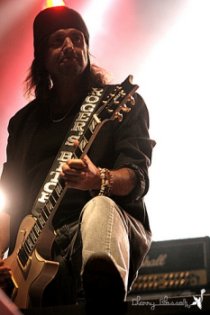 14. Killed by Death was next. As I was head banging with eyes closed, the music that permeated my brain with a dwindling cell count formed the image of a freight train billowing and forcefully chugging down a long stench filled tunnel. At the start of the song, a scraggly fellow wearing a white t-shirt and baseball cap came on stage to accompany LK on lead vocals. I initially thought it was James Hetfield of Metallica because he often attends metal shows at WT. I was wrong. I could not identity this person. [Since the band did not identify the guest singer, I presume he is not well known. His claim to fame may be to ensure LK's beard is kept in sell chiseled form.] Towards the latter part of the song, MD added flavor by flicking about five pairs of drum sticks out of his hand high into the air back towards the backdrop featuring the album cover while quickly grabbing new sticks to continue his pulsating beat.
15. Bomber was the next song, a fast up tempo groove-laden track.
At 10:28 the band left the stage and returned after two minutes to play three songs.
16. Whorehouse Blues, an acoustic song, was the surprising choice to start the encore. MD and PC sat on stools playing acoustic guitars, while MD also played a bass drum and hi hats. LK stood center stage sans his Rickenbacker. LK initially looked a bit awkward or, more aptly, "naked," without his axe, which soon wore off when he began playing his harmonica, further accentuating the bluesy feel of the song.
17. Ace of Spades was the second encore song. It brought back memories of repeatedly listening to this song off the very first rock record I acquired, No Sleep 'til Hammersmith," a gift from my older brother who bought it while living in Manchester. At the end of the song LK stated this was likely the "best audience in SF the band has had." PC leaned forward and handed me a beer cup and asked me to pass it around. [I resisted the urge to chug the beer in its entirety even though I was physically drained from the nearby moshing and crowd surfing. The last time I remember sharing a drink with strangers at a public event was at the midnight mass Christmas ceremony at Grace Cathedral when the pastor offered me wine symbolizing Jesus Christ's blood.]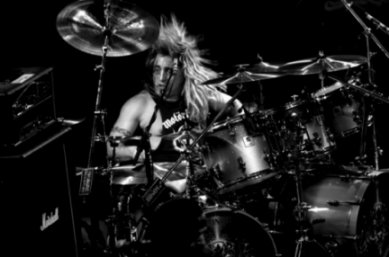 18. Overkill brought the show to a mind numbing, testosterone laced climax. This, along with Killed by Death and Ace of Spades, were the top three songs of the night.
Two flashback memories are worthy of mention. First, as I left the venue, my mind flashed back to the Judas Priest/Anthrax show at WT on the Demolition tour (01-19-02). One reason that is a memorable show is because it was my ex girlfriend's first rock concert. As we left the venue she vigorously sucked in air while tapping the interior of her teeth with her tongue. I asked her why she was acting as if she was wearing ill fitting dentures. She responded with some concern, "The concert was so loud I think some of my teeth have been knocked loose." I came close to feeling the same at this show.
Second, even though Motorhead did not perform any songs off Orgasmatron (released in 1986), the performance of two songs off Orgasmatron's predecessor, Another Perfect Day, brought back memories of the band's in store appearance at a long defunct San Francisco record store called, "The Record Vault" during the Orgasmatron tour. Some readers may recall seeing Metallica, Venom, Slayer, and Death Angel band members donning the store's black t shirt featuring a white logo and demon. Once the autograph seeking fans left the store, the owner closed shop but the band and crew remained. A crew member pulled out a fairly large, clear Ziploc bag. This bag contained pills and capsules of every conceivable color. It was like Skittles, but in hallucinogenic substance form.
Arash Moussavian, Entertainment Attorney
arashmoussavian@cal.berkeley.edu
www.linkedin.com/in/arashmoussavian